For Sale & Gifts,
please go to "What's New" for the details.
Free worldwide courier fee for the purchase at HK$5,000.
Free local (Hong Kong) delivery with SF Express courier.
2008 Spring Flavor
The tea aroma is rich and plentiful with the thick smooth texture and sensation of spring tea. The tea broth is extraordinary sweet, smooth, thick and "gan" together with a very good aftertaste so that one can feel the internal appealing flavor of spring tea. If you brew the tea seriously, sometimes, it will offer you a very sweet honey taste, which is amazing and attractive. After having a sip of this 2008 Spring Flavor, you will find the aftertaste is so unbelievably long lasting. Cloud believes that this tea will age into a very nice and plentiful aged Puerh tea which is going to be fascinating.
[Puerh Tea Production Reducing After 2007 Speculation]
[Tea Trees Being Well Cultivated in 2008 Resulting Many 2008 Good & Renounced Tea Cakes]
Cloud is of the view that 2008 was a special year for Puerh Tea because there are a lot of renounced teas from this year. This phenomenon is similar to the situation that tea connoisseurs always focus on 1999 famous teas because they are very good in quality. It is the same that the taste of 2008 Puerh teas are good and amazing, generally speaking.
Related articles written by Cloud
Related Article written by Cloud☁️ being released on 28 March 2019 "2008 Dayi Spring March - Spring Flavor Raw Tea Cake(500g)" Please click here to read it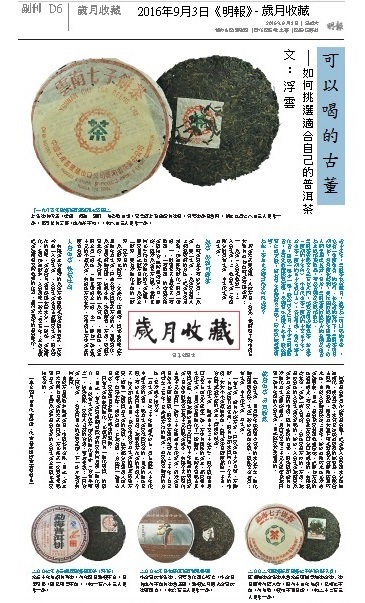 Brewing Tool:
Use a tea bowl (Gaiwan) or a purple clay teapot.
Amount of Tea leaves: 10g or one third of the brewing utensil's volume.
Before you brew: Rinse it with boiled water once, it will not be drunk and thus will not be counted as the first infusion.

Brewing method:
Add boiled water and brew for:-
5 seconds (1st infusion),
10 seconds (2nd infusion),
15 seconds (3rd infusion),
20 seconds (4th infusion),
30 seconds (5th infusion),
45 seconds (6th infusion),
60 seconds (7th infusion),
90 seconds (8th infusion),
and brew it as many times as you want until the tea broth is not strong enough.
Storage means the Conditions of the Tea Cakes
"Storage" of Puerh tea always confuses novices. Warehouse means the place for storing stuff or stocks. However, the Dry Storage, Natural Storage and Wet Storage of Puerh tea are not referring to the storage conditions of the warehouse. In fact, Dry, Natural and Wet Storage are the terms for describing the storage status (i.e. ageing condition) of the tea cake itself. In other words, these 3 terms are referring to the degree of wetness of a tea cake. If a tea cake is affected by high humidity, we will describe it as "Wet Storage". If a tea cake is affected by low humidity, we will describe it as "Dry Storage".

Health functions of Puerh tea
In the famous Supplement to the Compendium of Materia Medica (《本草綱目拾遺》) written by Zhao Xuemin (1765, the Qing dynasty), Puerh tea was described as "the first choice to refresh people's brain from too much drink, effective in promoting digestion and reducing phlegm, clearing away the stomach-heat and producing the body fluid. In particular, it tastes mild and slightly sweet, good for dispelling fats and detoxification, and promoting inner circulation."
Recommended Products
2008 Dayi Aged Autumn Tea - Autumn Flavor Raw Tea Cake (Dry Storage 500g)


[80808253]
4480.00

2005 Mengku Seven-son - Mengku Spring Tea (Dry Storage)(400g)


[80504443]
1280.00

2011 Golden Dayi <101> Dry Storage (357g)


[81102232]
12800.00

2006 Cloud's Raw Puerh Collection Series No.1 (Dry Storage 357g)


[80601734]
1980.00

[New Arrival] A Collection and Investment Guide of TAETEA (Dayi) Puerh Tea from Menghai Tea Factory 2005-2020


[30128822]
1380.00